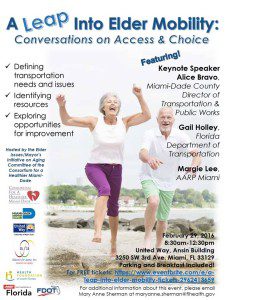 A Leap Into Elder Mobility: Conversations on Access & Choice
Defining transportation needs and issues
Identifying resources
Exploring opportunities for improvement
Speakers include Alice Bravo, Director of Miami-Dade County Department of Transportation and Public Works, Gail Holley from the Florida Department of Transportation and Margie Lee from AARP.
This free workshop hosted by the Elder Issues/Mayor's Initiative on Aging Committee of the Consortium for a Healthier Miami-Dade will be held in the Ansin Room at the United Way of Miami-Dade. Ample free parking and breakfast included!
Funded by the Health Foundation of South Florida.
EVENT DETAILS:
WHEN: Monday, February 29, 2016 from 8:30 AM to 12:30 PM (EST) – Add to Calendar